How is the emotional intimacy in your relationships? When you ask someone this question in terms of their romantic relationship they will immediately start talking about their sex life. So, even broaching the subject of emotional intimacy in relation to platonic relationships is difficult. Often, people struggle to put their feelings into words. They have a vague idea that perhaps their relationship is not perfect, but they can't quite put their finger on it… but something is missing. 
Romantically speaking, there's a good chance that no matter how much you love your partner, and even like them, there is a lack of growth in your relationship. The same can be said of platonic relationships, too. All relationships are a two-way street and their depth can be defined, if you will, by how boundless the respect is between the two people, as well as the give and take that is typical of it. We should cherish those we have relationships with and when we constantly remind ourselves about the why of those relationships, there is room to grow.
When it comes to emotional intimacy in romantic relationships, the picture of love can start to unravel when two people start to criticize, nitpick, and blame each other. Rarely are we naturally equipped with the skills necessary to take our love and transform it into a deep, emotional intimacy. We have been set up to fail by sitcoms and movies that make love look easy. We are all disillusioned by the truth, and we have allowed our love to erode, our trust to slip, and we settle into this state or we break up a relationship.
Humans naturally desire a deep emotional attachment to others, and when there are romantic feelings involved, there is often also a physical attachment. This then translates into a need to experience love, the act of loving someone as well as being loved. These feelings aren't enough, though, to create emotional intimacy – no matter how strong or deep you believe the feelings to be. 
Can you think of a relationship, whether romantic or platonic, that ended, and you were left wondering about who that person truly was? Sometimes you feel as though you know someone deeply within the first day you meet them, and other times you can know someone for a decade and be none the wiser to who they are as a person. 
So many people have lived together, slept in the same bed, had children together, shared a variety of experiences… and yet, lacked total emotional intimacy. A relationship can cease to be, and you may find yourself reeling, wondering who this person was that you invested so much of your time in. 
What Does Emotional Intimacy Really Mean?
The easiest way to explain this is with the word empathy. There is a shared sense of it, a closeness, and whether you are in a romantic or platonic relationship, you feel able to show the other person affection, share your deepest feelings and darkest thoughts, and you don't worry that they will jump to judgment. 
Truly, emotional intimacy is present when someone is able to read you like a book and still want to continue the story. You are fully transparent to them and they're happy to look at the view. If you have a romantic partner than also happens to be your best friend, well, this is a sign that you have created the perfect combination of intimacy, physically and emotionally. 
It is possible to have emotional intimacy with your friends, your romantic interests, and even members of your family. In fact, some people believe they have achieved this feeling with a pet. It's an important aspect of physical and mental health – but it runs even deeper.
In terms of emotional intimacy, it can feel as though the experiences you go through are shared and understanding when you find yourself in certain positions how the other person would view them. That sounds wonderful, doesn't it? 
But, what if you find it difficult to get close to people? If emotional intimacy is terrifying to you, there is hope – there are plenty of ways you can improve the emotional intimacy in your relationships. 
1| The Root 
What is it that makes you push people away? What is stopping you from opening up and feeling intimacy with others? There could be a wide variety of reasons, whether someone has broken your trust before, you grew up in a home that wasn't filled with affection, and you are just naturally cynical. No matter what your reason is, figure it out and think about it. Your reasons for it are very real, particularly to you, and it's affecting your ability to get comfortable with others. 
2| Take It Step By Step 
When you start to behave differently, you can start to feel differently. So, while you may not feel relaxed or interested in intimacy, you can make little changes to improve that. If you are in a romantic relationship, you can start this by hugging them at moments where you wouldn't normally hug. Perhaps before you, or they, leave for work or upon your return home. 
When you think about it, there's a good chance that the only time you physically touch others is during the act of sex. You can feel closer to each other if you increase your non-sexual touching. You will discover in no time that you feel closer and the non-sexual touching just becomes a habit. It may not feel natural initially but keep at it and it will become second nature. Take it one step at a time, a sudden change may be too much. 
3| Understand The Difference Between Physical & Emotional Intimacy 
For a lot of men, it's easy to disconnect their feelings from the act of sex. Women, though, often feel that sex stems from intimacy. While this isn't the same for everyone, it's common for people to think that by being physically intimate they will be able to achieve emotional intimacy. While they may be related, that is simply untrue. It's difficult to enjoy physical intimacy within a relationship when you and your partner aren't truly connected. You must build that emotional intimacy outside of the bedroom. 
4| Small Disclosures 
You have probably met someone who offered up big pieces of information about themselves and all at once. It's like word vomit, and it is far too much way too soon. These types of people, though, are often strangers. They tell you all about their life, their hopes and dreams, even their anxieties, but they feel comfortable doing so because their expectation is that they will never see you again. You can rest easy knowing that person probably struggles with emotional intimacy just as much, if not more, than you do. 
You don't need to drop your life story all at once – but you should offer up small disclosures over time. You should share what you think about things, and share information about who you are, and what led you to become who you are today. Don't be afraid to share your hopes and dreams. 
5| Don't Try Too Hard
That being said… don't get caught trying too hard either. If you overdo it you might just drive everyone away, be relaxed about sharing and making connections. Don't go asking people a million questions, especially if you wouldn't react well to those. Provide people with the space they need and allow intimacy a chance to build. 
6| No Judgment
If you discovered that your root issue relates to previous hurt, this point is incredibly important. You are vulnerable and that can make you judge everyone by the same behavior that your past pain was caused by. It's a bit like fight of flight – your unconscious mind is trying to protect you. Sometimes, though, it backfires and derails you from getting to know people. It leaves you with a belief that everyone will hurt you or let you down. Start training your unconscious mind to break the cycle by writing down all the ways a certain person is from the people who caused you hurt in the past. 
7| The Exception 
It's easy to feel hopeless when you label yourself as emotionally stunted or unable to achieve emotional intimacy. These problems are rarely absolute, so think about when you have been close to someone else, whether it's your dog, a friend from childhood or a member of your family. How did it feel to be so close to someone, what did it bring you? Imagine that feeling with others. 
Start With Yourself
To be able to be successful in being intimate with others, you must start with some deep introspection. 
You can't expect other people to love you if you haven't first taken responsibility for loving yourself. 
It's difficult to promote emotional intimacy when you haven't taken the time to identify your emotional needs. Your emotional needs could be to be touched or held, you may need forgiveness or acceptance, it may be about feeling included, engaged, considered, seen, heard, nurtured, held or understood. Regardless of your emotional needs, you need to know what they are if you expect the need to be filled by the people in your life. 
Beyond knowing those needs, you need to be prepared to discuss them, too. How will your partners in life know what you expect if you don't state your expectations? This is particularly important, as is the above point, for men. When straight men don't deal with this appropriately they tend to turn their romantic relationships into maternal ones. No woman wants to mother their partner. It can be challenging for men to determine their emotional needs because society has always told men to be strong and stifle their emotions. 
When you make a request of someone, ensure that it is legitimate, that it is clear, and that it is firm. If you are not met with a firm yes or no you may need to negotiate, so be honest when you're dealing with this type of situation. If it's someone else that is making the request of you, you need to deal with how to say no when you mean no. 
Work on your ability to hold each other accountable when agreements are broken. While it's important for others to take responsibility for letting you down, you need to be prepared to do the same when the breakdown is on your end. 
Don't be scared to have open and honest conversations, especially when it comes to fear. Fear plays a large role in relationships – people are afraid of losing themselves to the wants of someone else, and they fear losing that person to something or someone else. 
Attuned – each one of us has a purpose that we are deeply passionate about. What is your passion and what is theirs? It's a great way for you to foster your emotional intimacy by tackling something you're both passionate about. 
Let Go Of Negativity – you don't have to be right, you don't have to point out every wrong move, you don't need to point score or control your partner. Break down those preconceptions because all they are is a barrier that is standing between you and emotional intimacy. Once you get rid of the negative, welcome emotions that are supportive, positive, and kind and share them with your partner. 
Are you ready to be present? It's much easier to boost your emotional intimacy when you are present in your relationship. So, give them your complete attention when they speak to you and truly listen to what they are saying. Long-term relationships rely on clear and open communication. 
Be You – you are responsible for your emotional health and you can't give if you have nothing left to give. So, make sure you are putting enough into you, so you can be your best self. That way, your partner is getting your best, too.
How Satisfied Are You With Your Relationship? 
Do you feel loved, supported and comforted? Do you feel safe and trusting, confident in your partner's commitment to you? 
Do you know, beyond a shadow of a doubt, that he (or she) will always be there for you, no matter what? 
Or, in a not so ideal scenario, is your partner emotionally cold, or distant, or downright unavailable? Are they able to show their emotions? 
Are they able to express their emotions? Are they able to support you when you need it? 
Conversely, how well do you rank in the emotional availability stakes? 
Do you tell him (or her) how you feel? Do you express all your feelings, the positive as well as the not so positive? 
Or, do either of you withdraw and isolate? 
Scaling Exercise
Just go with the first number that comes into your head. On a scale of 1-10, where 1 is not at all and 10 is completely, how strong would you say the emotional intimacy in your relationship is? 
Ask your partner to answer the same question. 
Are you in the same ball-park with the outcomes? Or, is there a huge discrepancy in your scores? What do you think that could be about? Maybe your partner feels quite satisfied whilst you are feeling neglected, isolated and alone? Or perhaps you are surprised to discover that whilst you are quite content, your partner is the one who feels less satisfied? Whatever your scores, don't despair: there is always much you can do to improve the emotional intimacy between you.
This article is going to look at the work of three different relationship and communication experts to offer tips and strategies for building more trust and emotional intimacy in your relationship. 
Trust
Firstly, consider whether you and your partner have the cornerstones that go into the making of a healthy relationship. Trust, above all else, is the key to an emotionally sound relationship. According to relationship experts and couples' counsellors John and Judy Gottman, trust is the foundation on which a healthy relationship is built. Without it, you are unlikely to have, or be able to develop, any real emotional intimacy. 
How well do you trust your partner? Have them answer the same question about you. 
Do you trust him or her with your life? Or would you be hard pressed to feel confident sending them down to the corner store and have them come back with that hot sauce you requested?
Building trust in a relationship is the basic step for you to develop emotional intimacy. 
It's important because you need to feel safe in your relationship and you need to trust that, not only does that person have your back, they will protect you and cherish you. You can't build emotional intimacy without first trusting each other. 
If you don't trust each other you may be left worrying that your partner will hurt you, it could hold you back from loving them completely. If you are experiencing doubt, worried that your partner isn't being faithful (or any other issue) address it with them directly and do so immediately. There can be no emotional intimacy in your relationship until you first achieve trust. 
Be aware of this when you find yourself in an argument – don't go for the jugular to win the fight. This could irreparably damage the trust and makes it incredibly difficult to rebuild a healthy relationship. 
Sometimes it is better to disengage from the battle until you both have time to calm down – it's difficult to solve a problem properly when all either of you is interested in is getting the final word or scoring points against the other. 
How To Build Trust
Be honest yourself. If you are not honest, your partner will sense something is slightly off; there will be just a hint of something not quite right, which will automatically put them on the defensive.
By the same token, trust your own instincts. If something feels off to you, it probably is!
Be authentic.  Be yourself. If you are true to yourself your partner will know where they stand with you; they will come to know who you are, and they will know what to expect. If you are hiding parts of yourself, they will instinctively know, and it will make them feel uncomfortable.
Express your feelings. If you are not honest in expressing your feelings, you will bottle them up, and resentments, anger and hostility can subsequently build up. Withdrawal, isolation, frustration, loneliness and hurt can rapidly follow suit.  Pretty soon you find yourself living with a complete stranger! Emotional intimacy in relationships has a lot to do with emotional honesty! Be real about how you feel. Be willing to talk about your feelings! 
Commitment 
How committed are you to this relationship? How committed is your partner? If you are both very committed, that is great; along with a good sense of trust for one another, according to the Gottmans, you have the perfect foundations for a wonderful relationship with your partner where genuine emotional connection and intimacy can flourish. If one or both of you is not truly committed to the relationship, that is going to inevitably cause problems. 
Your chances for intimacy are going to be diminished, as the less committed one of you can easily back out when the going gets tough; this can lead to really hurting the other person.
So, the bottom line in creating emotional intimacy is trust and commitment. Assuming you have aced both of those, the next ingredient necessary for enhancing your emotional intimacy is communication.
Nothing is more effective in life than open and honest conversation – especially when it comes to romantic relationships. Communication is just as effective as any aphrodisiac. Get into the habit of turning the television off, putting your phones away, and shutting out all other distractions and sit down and just talk to each other. Make plenty of eye contact as you actively listen to what the other person has to say. 
It's also important to feel safe in that conversation, whether it's a romantic relationship or not. So, ensuring that your loved ones know that you have their back, no matter what… is a big part of making them feel safe. Feeling safe with someone is an important part of growing emotional intimacy. 
Here are a few further tips for you if you are trying to establish emotional intimacy in a romantic relationship, though it may be helpful information to those looking to foster a platonic relationship, too. 
The Art Of Non-Violent Communication
This brings us to the work of psychologist Marshall Rosenberg, who was a student of the humanist Carl Rogers, himself a founder of client centred counselling. Rosenberg developed what he called Non-Violent Communication, a simple four step process that is based on identifying and expressing feelings and needs. 
The aim is to build a heart-centred connection with the other person, regardless of whether other needs get met or not. Another of the things Rosenberg was passionate about was whether you are "making life wonderful" for others. 
According to him, one of our common human needs is the desire to contribute, and so making life wonderful for others is a way to fulfill this need. Think about your partner; how much of the time are you considering how to "make life wonderful for them", as opposed to thinking about how your partner can make life wonderful for you?! 
What do you think would change in your relationship if you devoted yourself to making life wonderful for your partner? Take some time to journal about this.
Don't inhibit yourself, just let the pen flow with whatever wants to come out. Then write about what would change if your partner devoted him or herself to making life wonderful for you. What have you learnt about yourself and your relationship by writing the answers to these questions down?
Communication is big. Huge, in fact. Rosenberg's four step strategy of non-violent communication is an invaluable life skill, not just for intimate partner relations. You can use it for conflict resolution in the workplace, or with your children, and of course, with your spouse. 
Steps To Non-Violent Communication
Step 1
State the facts of the situation, without evaluating it. For example, let's take a silly scenario: Suppose your partner left the lid off the toothpaste, again.
If you were to say, "You've left a huge mess in the bathroom again: the lid is not on the toothpaste!", it would be fair to say that this is your subjective evaluation of the situation. 
However, if you said, "I notice you have left the lid off the toothpaste for the second time this week, John", then this is a clear statement of the facts, (assuming John had, in fact, left the lid off the toothpaste two times in that particular week!). 
Of course, this is a ridiculous example but hopefully you get the point. So, step 1, then requires you to state the facts of a given situation. Just the facts. No judgements, no embellishments, no personal interpretations. Just the facts.
Step 2
State your feelings. Start with, "I feel". So, the story so far goes like this:
"John, I see you left the lid off the toothpaste twice this week. When I notice this, I feel disappointed".
Step 3 
Identify and state your underlying need. Before we go any further, here are some lists* of common feelings and universal needs. 
As human beings, we all have similar basic needs, so they are known as universal needs since they are common to all of us. 
Look and see how many of the following feelings and needs are relevant to you.
Feelings When Your Needs Are Satisfied
AFFECTIONATE
compassionate
friendly
loving
open hearted
sympathetic
tender
warm

ENGAGED
absorbed
alert
curious
engrossed
enchanted
entranced
fascinated
interested
intrigued
involved
spellbound
stimulated

HOPEFUL
expectant
encouraged
optimistic
CONFIDENT
empowered
open
proud
safe
secure

EXCITED
amazed
animated
ardent
aroused
astonished
dazzled
eager
energetic
enthusiastic
giddy
invigorated
lively
passionate
surprised
vibrant
GRATEFUL
appreciative
moved
thankful
touched

INSPIRED
amazed
awed
wonder

JOYFUL
amused
delighted
glad
happy
jubilant
pleased
tickled

EXHILARATED
blissful
ecstatic
elated
enthralled
exuberant
radiant
rapturous
thrilled
PEACEFUL
calm
clear headed
comfortable
centered
content
equanimous
fulfilled
mellow
quiet
relaxed
relieved
satisfied
serene
still
tranquil
trusting

REFRESHED
enlivened
rejuvenated
renewed
rested
restored
revived
Feelings When Your Needs Are Not Satisfied
AFRAID
apprehensive
dread
foreboding
frightened
mistrustful
panicked
petrified
scared
suspicious
terrified
wary
worried ANNOYED
aggravated
dismayed
disgruntled
displeased
exasperated
frustrated
impatient
irritated
irked

ANGRY
enraged
furious
incensed
indignant
irate
livid
outraged
resentful

AVERSION
animosity
appalled
contempt
disgusted
dislike
hate
horrified
hostile
repulsed
CONFUSED
ambivalent
baffled
bewildered
dazed
hesitant
lost
mystified
perplexed
puzzled
torn

DISCONNECTED
alienated
aloof
apathetic
bored
cold
detached
distant
distracted
indifferent
numb
removed
uninterested
withdrawn

DISQUIET
agitated
alarmed
discombobulated
disconcerted
disturbed
perturbed
rattled
restless
shocked
startled
surprised
troubled
turbulent
turmoil
uncomfortable
uneasy
unnerved
unsettled
upset
EMBARRASSED
ashamed
chagrined
flustered
guilty
mortified
self-conscious

FATIGUE
beat
burnt out
depleted
exhausted
lethargic
listless
sleepy
tired
weary
worn out

PAIN
agony
anguished
bereaved
devastated
grief
heartbroken
hurt
lonely
miserable
regretful
remorseful

SAD
depressed
dejected
despair
despondent
disappointed
discouraged
disheartened
forlorn
gloomy
heavy hearted
hopeless
melancholy
unhappy
wretched
TENSE
anxious
cranky
distressed
distraught
edgy
fidgety
frazzled
irritable
jittery
nervous
overwhelmed
restless
stressed out

VULNERABLE
fragile
guarded
helpless
insecure
leery
reserved
sensitive
shaky

YEARNING
envious
jealous
longing
nostalgic
pining
wistful
Needs List
When someone in a relationship is angry or hurt it's important to understand what need is being unmet and has led to this breakdown. Often, these issues go unresolved, which means there is an unidentified problem that could eventually cause resentment. Identify the problem and deal with it head on. 
CONNECTION
acceptance
affection
appreciation
belonging
cooperation
communication
closeness
community
companionship
compassion
consideration
consistency
empathy
inclusion
intimacy
love
mutuality
nurturing
respect/self-respect
CONNECTION continued
safety
security
stability
support
to know and be known
to see and be seen
to understand and
be understood
trust
warmth

PHYSICAL WELL-BEING
air
food
movement/exercise
rest/sleep
sexual expression
safety
shelter
touch
water
HONESTY
authenticity
integrity
presence

PLAY
joy
humor

PEACE
beauty
communion
ease
equality
harmony
inspiration
order

AUTONOMY
choice
freedom
independence
space
spontaneity
MEANING
awareness
celebration of life
challenge
clarity
competence
consciousness
contribution
creativity
discovery
efficacy
effectiveness
growth
hope
learning
mourning
participation
purpose
self-expression
stimulation
understanding
 Lists Source: (c) 2005 by Center for Nonviolent Communication; www.cnvc.org
Use the lists to help you learn about and identify your feelings and needs. In the toothpaste lid scenario, what could your underlying need be? Remember that the lists are not exhaustive. Perhaps you really value orderliness, or hygiene, or a harmonious environment, an aesthetic sense of beauty and calm, or cleanliness? Perhaps you value all of these? 
So, by now your statement is looking like this: "John, I see you left the lid off the toothpaste twice this week. When I notice this, I feel disappointed, because I really value (or, I really need), a clean and beautiful environment."
Step 4
This is where you make a request of your partner. The bottom line of the entire exercise is to bring about a deepened sense of heart-centred connection (aka emotional intimacy) between you and your partner. 
Remember that you may not necessarily get your needs met by your partner even though you make a request. In this case, you will learn about self-soothing, self empathy and compassion, which increases your connection to yourself. 
Your request to your partner will be something doable, and specific. It will often start with the words, "Would you be willing to….". Or, you could equally ask, "How do you feel when you hear me say this?" 
Our scenario could now look like this: "John, I see you left the lid off the toothpaste twice this week (Step 1, stating facts). When I notice this, I feel disappointed (Step 2, stating feelings), because I really value (or, I really need), a clean and beautiful environment (Step 3 stating needs). Would you be willing to consider this next time you use the toothpaste? (Step 4, making a request). I would love it if you would put the lid on!"
There is a lot to learn in order to use non-violent communication effectively, and the best way to learn is by putting it into practice. The miracle of non-violent communication is, that when you become more intimately connected to your partner, and acknowledge each other's feelings and needs, solutions to problems often arise spontaneously.
When Your Partner Cannot Meet Your Needs
Realizing that your partner is only human can be a big help in establishing more emotional intimacy. No one can meet all the needs of another. So, when your partner inevitably falls short, instead of feeling hurt and angry, which will only create distance between you both, you can practise self-soothing. 
You can do this by placing one hand over your heart and breathing into that area for a few moments. Say to yourself something long the lines of, "Jenny can't help me right now, and that is ok. I can send myself the love and compassion I need right now". 
Then imagine sending yourself love and compassion. You may picture it as a pink or golden glow flooding to your heart, and gently surrounding it. Remember to breathe deeply into your belly and feel calmer as you do so. Consider other ways to get your needs met.
Empathy
A big ingredient in non-violent communication is empathy. Empathy is the ability to understand and share the feelings of your partner. 
Self-soothing is like having empathy for yourself. Next time your partner is frustrated or upset, try practising having empathy for them. See if you can understand where they are coming from. 
Can you see why they would feel that way? Can you keep your heart open and feeling compassionate towards them because you understand their situation? Then you are experiencing empathy.
Non-Verbal Communication
Don't forget that your partner uses non-verbal cues to speak to you, too. So, pay attention to their tone of voice, body language, their facial expressions, and gestures. This is all improving your emotional intelligence and in turn, it will improve your ability to be emotionally intimate. 
Leaning Towards
Relationship experts John and Judy Gottman talk about "leaning towards" your partner. Do you lean towards, or turn away? To build emotional intimacy, you need to practise leaning towards. 
One of the ways you can do this is to ask your partner specific questions about themselves, their life, and their interests. This tool is a helpful way to build bridges towards each other's worlds. In partner conflict, the skills of non-violent communication help you continue to lean towards, even when your instincts might tell you to turn away.
Thanking, Acknowledging And Complimenting
Thanking, acknowledging and complimenting one another are further ways to support the growth of emotional intimacy. You are more likely to warm to each other when you are living in a supportive and positive environment. 
Criticisms and put-downs are sure ways to create distance, withdrawal, defensiveness and shut-down, just the exact opposite of what you are wanting. 
Remember that you can't change other people. Focus on the things you love about your partner. Practise acceptance of the things you don't. 
Forgiveness
We all make mistakes – so if your partner makes one, don't hold them hostage over it – forgive them and move on. If you can point it out without causing hurt, then you may proceed. Instead of looking for the negatives or their mistakes, instead look for the positives and compliment them on those. This is a sure way to deepen your relationship's emotional intimacy. 
Forgiveness is a big part of any relationship. It breaks down walls and heals old wounds, in your heart as well as your partner's; it regenerates trust and paves the way for emotional intimacy to flourish. Practise forgiveness every day, not just for your partner but also for yourself. When you forgive others, your own heart is soothed. When you forgive yourself, you can experience inner peace.
Gratitude
Gratitude for everything you have together is a powerful healer. Being grateful for every little thing that is going well in your relationship can really build up strong feelings of mutual affection and closeness. Positivity breeds positivity. Practise telling each other at the end of each day, three things about them you feel grateful for. Ask them to do the same for you.
The Five Languages Of Love
Author Dr. Gary Chapman wrote the bestseller, "The Five Love Languages", as a result of his own ups and downs in his marriage of over 45 years. These languages of love can help you communicate your love to your partner in the way that is most meaningful to them. 
Learning your partner's primary language of love can be a big help in ensuring they really feel loved and valued by you, and vice versa, of course.  Here are the five love languages:
Words of affirmation. Saying encouraging and complimentary things.
Acts of service. Helping when the other is stressed, or tired. Alleviating a burden of work.
Receiving gifts. The gifts must be sincere, thoughtful and express that you really do care.
Quality time. Being together; hanging out or doing stuff together.
Physical touch. A hug, a kiss or a cuddle. Holding hands. A shoulder, neck or foot massage. Public displays of affection. 
Try putting into action at least one of the five love languages each and every day. Additionally, try to use your partner's preferred love language whenever possible.
Final Thoughts
So, are you satisfied with your relationships? Does your romantic partner admire you, do you feel comfortable touching outside of sexual situations? It's time to tune into the dynamics of your relationships and determine whether you are continuing to grow with each other and as an individual. If it's a romantic relationship you're worried about, just look at how you behave with each other when sex isn't happening, when it's off the table. 
Developing emotional intimacy in a relationship takes trust and commitment. With these two foundational principles in place, you have every chance to create a loving and close bond with your partner. 
The next important piece to practise is communication, and conflict resolution through the art of expressing your feelings and needs and empathising with yourself and your partner. This art is called non-violent communication. 
Focus on "making life wonderful" for your partner. One of the ways you can do this is by giving compliments, acknowledgment and appreciation. The five languages of love are also going to help make life more wonderful for your partner. 
Be honest with yourself and rate your satisfaction in your relationship. Are you at a ten or so far off it hurts? Determine where you feel things are lacking, whether it's the quality time you have with each other, the level of affection you share or your communication. Wait for an appropriate moment (one that is stress-free and not during an argument) to open up a conversation with your partner about how you could better meet each other's needs. 
If you are lacking in both physical and emotional intimacy, then you're likely feeling highly dissatisfied with your relationship. If there is a total disconnect, don't think you can solve it by heading to the bedroom. 
Instead, try taking a walk together while holding hands, exchange short massages before bed, go on a picnic or somewhere you will need to sit very closely to each other, send flirty texts to each other throughout the day, chat in bed before you get up or go to sleep, reminisce about your favorite memories together, cook with each other, make eye contact while you talk to each other, hit the gym together, and finally… make out, like you did when you were a teenager. 
Before you slip off to sleep each night, thank your partner for something they did that day. It doesn't matter how small that act was, just express gratitude for it. Then name something about them that is attractive to you. 
Never underestimate what a difference a lingering touch, a genuine thanks or sharing memories can do for your relationship. You can't achieve emotional intimacy without a bit of tender loving care. 
This isn't a formula to solve all your problems, nor is it a guarantee that you will be able to unlock emotional intimacy in all your relationships. Much like love, it's a bit of a mystery. However, if you are committed to achieving it and learning about who you are and who your friends, family, and lovers are… then you are more than likely to unlock those mysteries that come with emotional intimacy. 
Devoting yourself to offering your partner words of affirmations, acts of service, gifts, physical touch and quality time, can only improve the level of emotional intimacy you experience. Recognising what you love about your partner and highlighting that instead of finding fault and criticizing can keep you feeling close and connected. 
Accepting what you cannot change and, above all, practising forgiveness, are potent ways to keep the love between you alive and burning bright. Lean towards you partner rather than turning away and be grateful for all the wonderful things your relationship brings.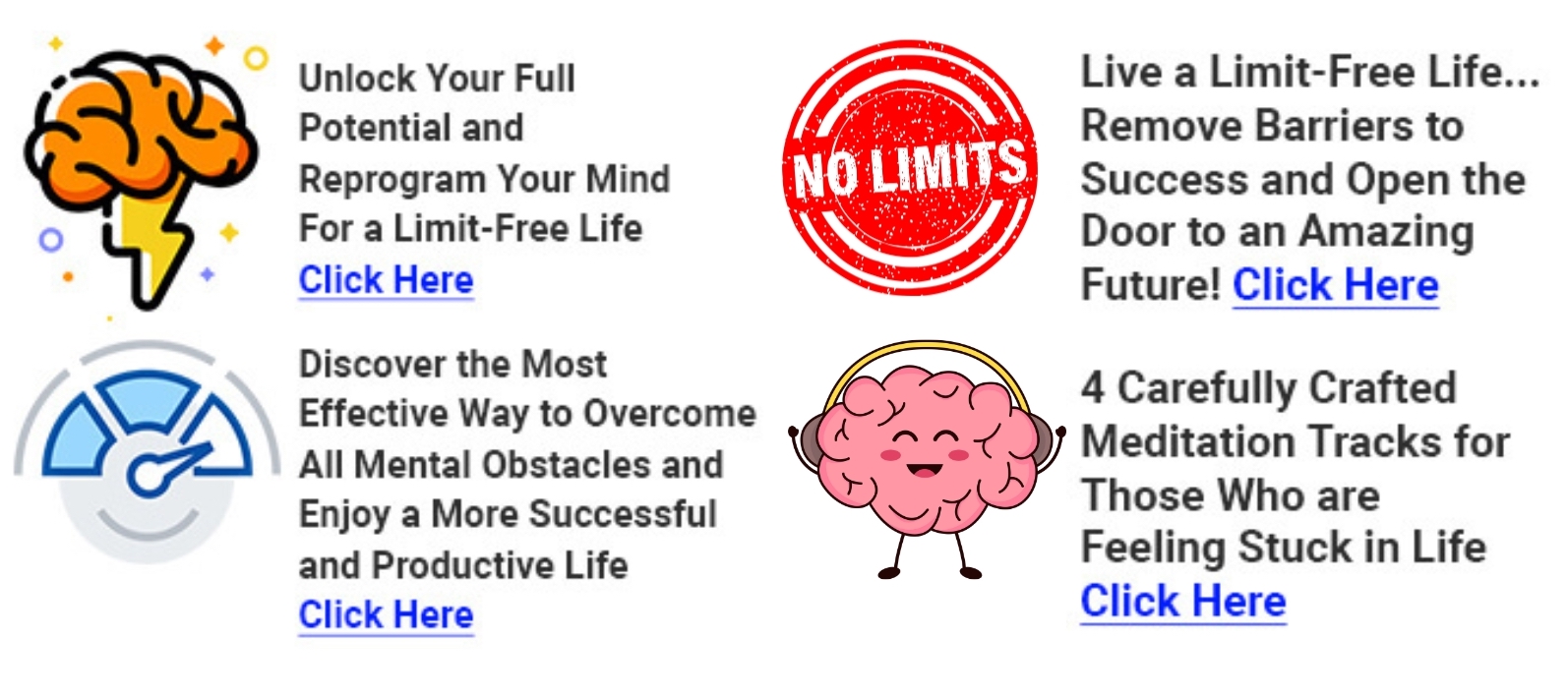 ******************
It's time to "Pop a Pill" and Upgrade to a Limitless Life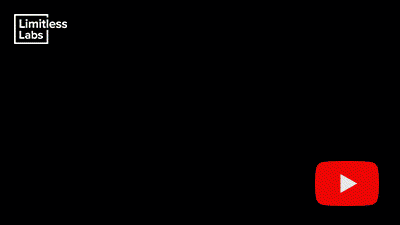 "Just pop a pill!"
That's the quick-fire answer to most modern-day health problems.
Need more energy? "Just try this pill..."
A greater night's sleep? "Pop this before bed..."
Beach-ready body? "Get these injections..."
Got to get heart-healthy? "These tablets help..."
It sounds great, on the surface.
But read the small print... the shocking side-effects... the longer-term cancer risks...
Often, it's just not worth the risk.
You need a 'life upgrade' pill without any side-effects.
And that just doesn't exist.
Until now...
I'd like to introduce you to Limitless Labs.
This company produces "digital pills", which use a powerful active ingredient ('NLP') to deliver rapid, lasting change -- all in just 15 minutes.
They have over 35 pill formulations -- for everything from rapid weight loss to exercise motivation, from incredible health to the most rejuvenating sleep.
They're all incredibly powerful, and 100% safe.
It's time to rethink how we do "pills".
Click here to step inside Limitless Labs: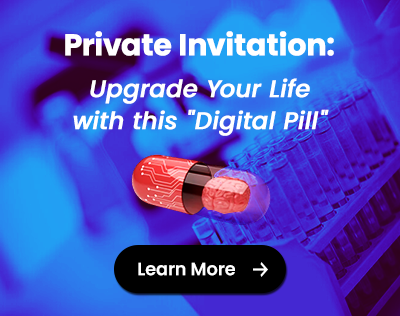 (Use voucher code VIP3030-10 to get 10% off anything on the site.)
******************